On this page:
Hands Off Point Peron are not against development at Point Peron. We are against inappropriate development.
The Proposed Development Plans are outlined in the image below. Option 4 on the right hand side is the most recent documented submission.
Documents and background information
---
Development Plans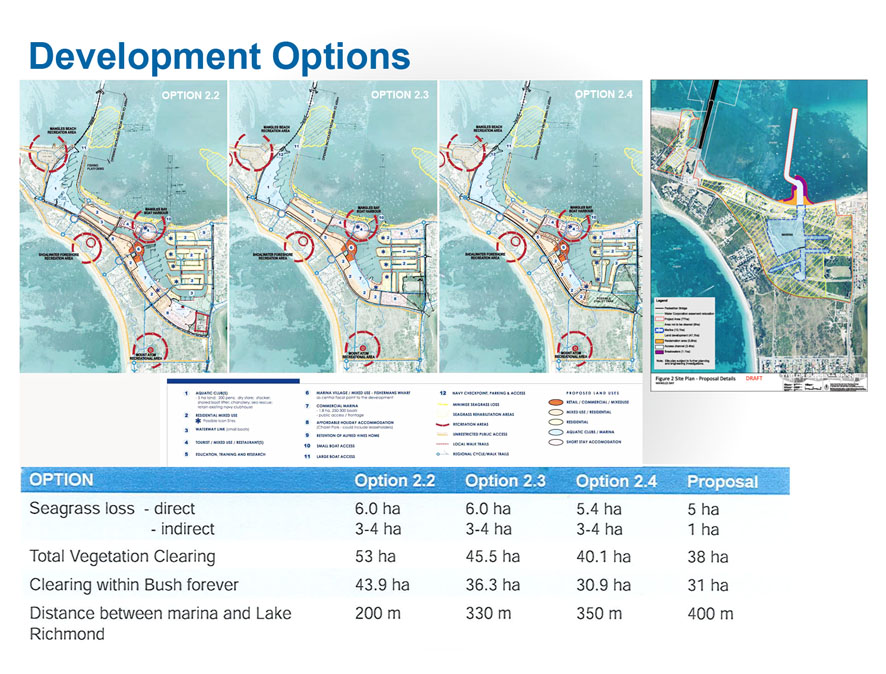 ---
The Development Approval Process Timeline
2006: Development Plan for Cape Peron Tourist Precinct Project was submitted to the Environmental Protection Authority (EPA)
2006: EPA Strategic Environmental Review report was published, outlining key issues and concerns with the project plans – SER Report 2006 (pdf)
September 2009: the Barnett Government committed $3.7 million to fund the next phase of a proposed canal housing and inland marina project at Point Peron, known as the 'Cape Peron Tourist Precinct Project'.
20 April 2010: The Barnett Government announced that they had appointed a private sector development partner Cedar Woods to work on the next phase of the project. Six more stages mean it will be two years before any work can start.
2011: Currently, the proponents are working to refine the 2006 Development Plan which they submitted to the EPA in 2006 – link to SER 2006 PDF
2011: Cape Peron Tourist Precinct Project renamed Mangles Bay Marina Based Tourist Precinct Project.
07 Feb 2011: EPA opens for public submission and comments on the draft Environmental Scoping Document (ESD) which closes Monday 21 February 2011.
Click here to go to the EPA website
Click here to download the draft Environmental Scoping Document (ESD)
---
The Mangles Bay Marina Based Tourist Precinct Project
It would require that 44ha of publicly owned crown land near the entrance to Point Peron 44ha, be excised from the Rockingham Lakes Regional Park including approximately 35 ha of land from the Bush Forever Protection area.
This land would be sold and cleared for private multistorey apartments and canal side residences, private marina, hotel/resort (maximum height; five storeys) shops & carparks.
The proposed site includes land southwest of the corner of Point Peron Road and Safety Bay Road down to Memorial Drive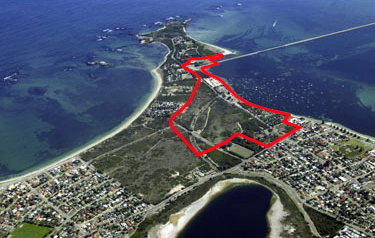 Image: Project area is outlined in red: Mangles Bay Marina Based Tourist Precinct
---
Why Hands Off Point Peron is opposed to this current development plan
This is the wrong location for a marina in Rockingham; this area has shallow water, meaning substantial dredging and losses of healthy seagrass
To bulldoze green open space at Point Peron and replace it with concrete and carparks, hotels will have a detrimental impact on the entire area
There is marina under development north of the Rockingham beach cafe strip (Wanliss St foreshore) that does not require taxpayer subsidies
Further loss of seagrass in Cockburn Sound and the sale of 'Bush Forever' public land to fund these canals is not in the public interest
To ensure that Point Peron maintains its current status as a regional park and is enhanced for the benefit of the whole community.