POINT PERON is a place of treasured memories for many West Australians and its UNDER THREAT.
---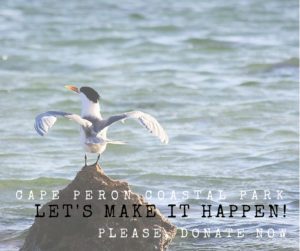 Watch this video: Hands off Point Peron by Samuel Young
The State Government's proposed private canal housing estate and inland marina development, so-called Mangles Bay Marina (MBM), on public land at Point Peron MUST be stopped.
The Environmental approval of the MBM is nothing short of reckless. It is not a Hillarys-type in-sea marina but a proposed inland marina/canal development in a regional park of natural coastal bush sustaining a unique, threatened and critically endangered ecology.
Canal estates of this type have been banned elsewhere because of their disastrous environmental, financial and social costs.
Despite expert scientists describing the Environmental Impact review as "inherently flawed" the State Government continues to ignore the many serious and detailed environmental concerns and is forging ahead with rezoning the land for urban development
The 1964 Point Peron Land Agreement stipulated that Point Peron's use is to be 'restricted to a reserve for public recreation and/or parklands and that the land must not be used 'for private industrial, commercial or residential development'
Our alternate community-based and initiated plan for Cape Peron Coastal Park is for a World class conservation and recreation park in keeping with the 1964 Point Peron Land Agreement which would be infinitely better for the economy, the environment and the health of our community
Your support will help us STOP the MBM development so we can save Point Peron and create our Coastal Park for the people of WA and Australia forever.
TAKE ACTION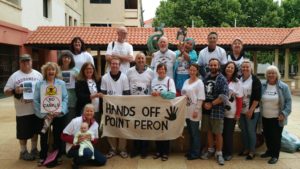 Photo above: Fellow Point Peron lovers rallying against the development
Here's how you can help make the Cape Peron Coastal Park happen
Write to the following decision-makers to object to the rezoning of our public land and the planning approval for Mangles Bay Marina (MBM).
Hon Mark McGowan, Premier wa-government@dpc.wa.gov.au  and mark.mcgowan@mp.wa.gov.au
Hon Roger Cook, Deputy Premier, Minister of Health kwinana@mp.wa.gov.au
Hon Paul Papalia, Minister for Tourism Minister.Papalia@dpc.wa.gov.au
Hon Rita Saffioti, Minister for Planning minister.Saffioti@dpc.wa.gov.au
Hon Stephen Dawson, Minister for Environment minister.Dawson@dpc.wa.gov.au
Hon Kate Doust, President of the Legislative Council kate.doust@mp.wa.gov.au
Hon Allanah Mactiernan, Minister for Regional Development minister.MacTiernan@dpc.wa.gov.au
Hon Michael Murray, Minister Sport and Recreation mick.murray@mp.wa.gov.au
Hon John Quigley, Attorney General minister.Quigley@dpc.wa.gov.au
Hon Chris Tallentire, Parliamentary Secretary thornlie@mp.wa.gov.au
Hon Dr Mike Nahan, Leader of the Opposition admin.nahan@loop.wa.gov.au
Hon Liza Harvey, Shadow Minister for Planning; Lands liza.harvey@mp.wa.gov.au
In your email you may include:
A request to see the WA Planning Commission Report
The message : The people have spoken. What more is there to think about?
Tell the politicians the things you would want to share with friends and others about the MBM versus a coastal park
Tell the politicians that it is time for the Government to withdraw the proposed amendment and get behind the community vision for the land to become part of a world class coastal park, which is in keeping with the original intentions for the land as per the 1964 Point Peron Land Transfer Agreement and the land's "bush forever" status within the regional park"
A list of further relevant points to include in your letter can be found at: www.handsoffpointperon.com and www.cape-peron-coastal-park.com
No matter where you live in WA please lobby your local MP. After the WA Government essentially doing a 'tick and flick' on the environmental approvals we are now at the planning phase for the proposed Point Peron Canal Housing Estate aka MBM. For the proposal to go ahead rezoning of our public land is required. This means a major amendment to the Metropolitan Region Scheme which must be approved by both houses of WA State Parliament so it is important – no matter where you live in WA – that you contact your local MP to voice your opposition.
Start an email conversation with your local MP, tell them your concerns and urge them to vote NO to the rezoning of the land when it is presented to them in parliament in the coming months. Your local MP's details can be found by entering your postcode here: http://www.parliament.wa.gov.au/webcms/webcms.nsf/index
Make a donation of money to support our campaign. Donations to help with printing and website costs are sorely needed. Regrettably we don't have the $3.7mil the government gave Cedar Woods. Any donation you make will help, greatly. Donations buckets on table near door and you can donate via direct bank transfer. You can find our bank account details on the home page of website www.handsoffpointperon.com
Hand out leaflets in key public areas or letterboxes in your local area: For copies email Dawn Jecks at dawnjecks@gmail.com
Spread the word about the Cape Peron Coastal Park among your friends, database and through social media such as Facebook and Twitter.
Promote our Cape Peron Coastal Park concept as far and wide as possible. We need to get as many people as we can onside (both State-wide and nationally) to win our park back.
Get all your friends to like us on Facebook: Cape Peron Coastal Park.
Download a copy of the Cape Peron Coastal Park Concept Plan from the Cape Peron Coastal Park website . Show it to all your friends, your local Members of Parliament, any media contacts – everyone and anyone. We need to spread the word that we have a positive alternative to a rotten idea.
 If community groups that you are a member of, or are involved in, want speakers please suggest us to present on the Cape Peron Coastal Park Concept Plan. We need to spread the word far and wide. Please contact georgeburns@iinet.net.au for dates and availability
HAVE YOU SEEN OUR ALTERNATE VISION FOR A WORLD CLASS COASTAL PARK INSTEAD OF CANALS ON CAPE PERON?  
You can see our community-based vision for the Cape Peron Coastal Park here
---
For more information on the proposed development, please follow this link
http://www.manglesbaymarina.com.au/public-environmental-review
---
HOW YOU CAN HELP?  HAVE YOUR VOICE HEARD!
DONATIONS NEEDED
We are a local 'not for profit' and ordinary Mums and Dads type organisation. Funds are desperately needed to help with printing and advertising costs and potential legal costs as the campaign heats up. Please considering donating what you can afford – Even just a small amount would be put to very efficient use. Thanks in anticipation.
To donate, please note your name as a reference and payment can be made in to the following bank account
Account Name: Hands Off Point Peron Inc
BSB 633-000
ACC: 14274 4192
---
How you can help:
LETTERBOXING
PRINT OUR FLYER
SIGN OUR PETITION
WRITE LETTERS TO LOCAL MPs

The petition is now closed
Thank you to the many people who supported us in this petition.

 ATTEND EVENTS  & RALLY'S
 JOIN US ON FACEBOOK
 JOIN OUR EMAIL LIST
 WRITE LETTERS TO THE EDITOR