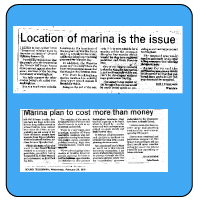 Have your voice heard! Here are some examples of published letters to the editor that get the message out that the wider community is NOT happy about the planned Marina and Canal Development.
Send your letters to the editor
Local Rockingham Newspapers
State newspapers (WA)
---
Published Letters
With community pressure we can create change! If you get your letters published, please email us and we will add to this collection. Check out the following published letters for ideas and to view what has been discussed:
---
Tips for Writing Letters
1. Keep It Short – Make your letter clear, concise, and focused on one point. Length requirements vary but 150 – 200 words max is a good rule of thumb.
2. Keep It Simple – Use simple, everyday language. Avoid catch phrases and fancy terminology. Make it easy for the average reader to understand.
3. Personalise It – Use information on this website to help you with your content –  but put them in your own words and personalsze them with your own experiences.
4. Make A Call To Action – When appropriate, suggest that readers take action like contacting their representatives or voting for a specific candidate that best supports your position.
5. Include Contact Info. – Include your name, snail and email address, and the number where you can most easily be reached. This information is kept private, however, the paper must have it as they will not print a letter to the editor from anyone they have not first contacted and verified as the author.
6. Make It Exclusive – Don't make multiple submissions. It's tempting to blast your letter to multiple outlets, but papers want exclusives. If you don't hear back from a paper in a few days, then submit the same letter to another paper.
7. Promote Your Success – Give your published letter extra mileage by announcing it on facebook, twitter, to organizations and blogs that support your sentiments, and of course send us an email so we can post it here.