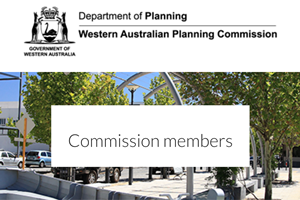 These are the people from the WA Planning Commission (WAPC) who will be making the decision about the proposed Metropolitan Region Scheme Amendment 1280/41 to rezone the land "URBAN" (not "Waterways"). An "URBAN" zoning would allow the sell off and bulldozing of 105.34 ha of Point Peron Regional Parklands for housing on the unfunded, unenforceable and potentially false promise of building the marina.   Given that the marina is the basis on which the proposal has always been marketed, it follows that allowing the land to be zoned "URBAN" may result in a great big scam against the people of Western Australia.
This land was set aside by agreement of the Prime Minister and Premier to be held forever as an "A class reserve" for recreation and parkland and now LandCorp and Cedar Woods want to tear up that promise and make a quick profit at the expense of the community, the economy and the environment.
Will these members of the WAPC have the courage, integrity and foresight to put a stop to this murky project? Or will they bow to pressure from their political masters and the government's friends in the development industry who want to destroy the golden opportunity to establish a world class coastal park at Cape Peron?
You can let them know how you feel about this proposed re-zoning of Point Peron by sending them an email addressed Attention: WAPC Chairperson and members at: committees@planning.wa.gov.au
 Commission members

Mr Eric Lumsden – Chair, Western Australian Planning Commission
Ms Gail McGowan  – Director General, Department of Planning
Cr Veronica Fleay – Non-metropolitan local government representative
Ms Jane Bennett – Professions representative
Mr Fred Chaney – Professions representative
Mr Clinton Wolf – Professions representative
Mr Jason Banks – Director General, Department of Environment Regulation
Mr Steve Wood – Director General, Department of State Development
Mr Paul Whyte – Acting Director General, Department of Housing
Mr Mike Rowe – Acting Director General, Department of Water
Ms Nina Lyhne – Director General, Department of Transport
Dr Garry Middle – Coastal planning and management representative
Mayor Henry Zelones – Metropolitan local government representative
Mr Ralph Addis – Associate Member, Director General, Department of Regional Development
Mr Ross Thornton – Regional representative
Vacant – Urban and regional planning professional
You can find the commission members here