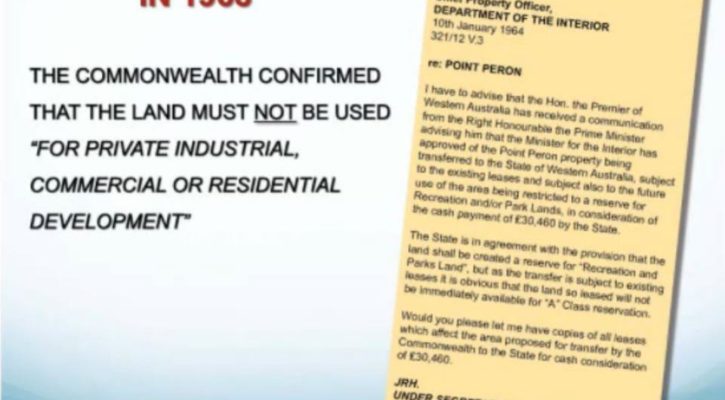 Please join us for a rally/peaceful protest/media stunt outside WA Premier Colin Barnett's office 589 Stirling Highway Cottesloe on Friday 29.08.14 from 10:30-12.00am where we will be holding him to account for tearing up the 1964 Commonwealth State Land Transfer Agreement which stipulated that the Point Peron public land must only for used a reserve for Recreation!!! and/or Park Lands, which then in 1968 the Commonwealth went on to confirm that the land must not be used "for private, industrial, commercial or residential development'.
The focus is to get media attention for Barnett's tearing up of the 1964 Point Peron land agreement. Signs need to reflect this message. If you could bring your own double sided sign saying "A deal is a deal" that would help reinforce this message.
Prior to walking to Barnett's office we will first assemble nearby at 10:30am on the vacant land near the Vet clinic on the Indian ocean side of Stirling H'way about 70m South of the Cnr Jarrad and Stirling H'way.
Once outside Barnett's office we will have a giant size 1964 land agreement which some greedy developers (actors) are helping Barnett (actor) to tear up. We need a big crowd of 'Joe public' surrounding them holding up signs in protest of Barnett tearing up this agreement. That's where 'you' come in. IF WE ARE TO WIN THIS FIGHT WE NEED PEOPLE POWER – HOPE YOU CAN MAKE IT!