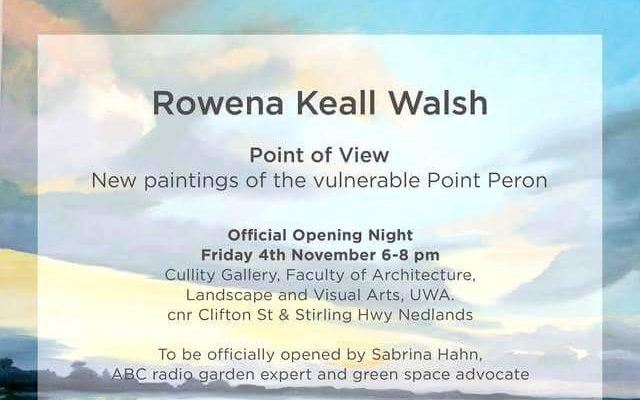 Don't miss the opening of the Rowena Keall Walsh  art exhibition this Friday evening the 4th of November.
If you love WA's spectacular and pristine coastline you will love Rowena's  paintings.
The title of this exhibition is Point of View, with new painting of the "vulnerable Point Peron".
This event is free and open to the public, we hope to see you there (no need to RSVP).
Download  event flyer
Rowen Keall Walsh is a well known West Australian contemporary landscape artist, see her bio here and website.
Point of View – Exhibition Opening
Hosted by Sabrina Hahn
Friday 4th November, 2016
6-8 pm Cullity Gallery
Faculty of Architecture, Landscape, Visual Arts  (Map)
Corner of Clifton St & Stirling Hwy, Nedlands (Crawley)
University of Western Australia